Developers who do not pay for the removal of unsafe cladding, will now be facing a ban by the Government on building new homes.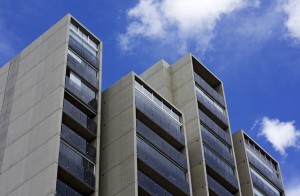 Any home builders who have refused to pay repair bills to fix unsafe leasehold flats could be banned from selling new homes as a consequence. The Government has put forward a series of amendments to the upcoming Building Safety Bill, which, if it is passed by parliament, will give it the ability to allow sanctions to be placed on developers and manufacturers who are to blame for the ongoing building safety crisis.
The introduction of these new measures will also ensure that the majority of leaseholders will be protected legally from the stress and pressures of needing to pay for the fixing of unsafe cladding.
In January 2022, the Housing Secretary Michael Gove announced the Government's plans to introduce a £4bn fund to remove unsafe cladding on buildings between 11 and 18 metres tall, with developers asked to foot this bill. The Housing Secretary said leaseholders were 'shouldering a desperately unfair burden' and that it was 'morally wrong' that they should be paying for remediation.

The Government has announced that when developers decide not to take the right course of action and pay for any cladding repair work required, it will use new legal powers including the blocking of planning permission and building control sign-off.
By taking such drastic measures, it would effectively make it impossible for developers to build and sell homes. The Government also unveiled several other proposals such as:-
The new Building Safety Levy which will be applied to more developments, with the scope to charge higher rates for developers who refuse to pay for cladding remediation.
Courts will also be given new powers to stop 'shadowy shell companies' being used by developers.
Those manufacturers found guilty of misconduct, will be given Cost Contribution Orders to make them pay towards these repairs. Building owners will also be able to take legal action against them.
The significance is that the amendments will preserve in law that no leaseholder living in a building that is 11 metres high or taller, will have to pay for the removal of dangerous cladding. The one key omission from this amendment however, is that the Government has yet to provide any further information on support for leaseholders living in those buildings.
The news is also a bit of a 'mixed bag' for leaseholders when it comes to other building safety issues. The Government's plans state that if the original developer still owns the building (or the current landlord is linked to that developer), they have to pay in full to fix other historic building safety issues. However, where the current building owner is not linked to the developer, but can afford to pay for the repairs, they'll also be expected to do so. If the building owner cannot afford to pay, the leaseholders will be protected by a cap on their costs of £10,000 (£15,000 in London) each.
Ultimately, this does mean that in certain cases, leaseholders may still be expected to foot some of the repair costs themselves. The Government has claimed that this will only occur in 'a small number of cases' and any costs leaseholders have paid over the last five years will count towards the aforementioned cap. The Conservative MP Stephen McPartland, who has been very vocal about the cladding crisis, described these charges as 'a last resort that I do not think will really happen'.
The campaign group End Our Cladding Scandal described the announcements as 'the most positive step forward we have seen so far', but also expressed concerns that some leaseholders would still be subject to paying 'enormous amounts'.
Some leaseholders have also raised concerns that these new amendments could prevent them from selling their homes, as they will only provide protection for leaseholders currently living in their property, meaning any new buyer would not be able to benefit from the protections. The Government has not yet clarified whether this is indeed the case.
These latest announcements by the Government will be presented as amendments to the upcoming Building Safety Bill, so they still need to pass through parliament before coming into law. Which means that leaseholders could be left waiting for a number of months before these protections actually come into force.
The Government's announcement of these new measures, reaffirms the package of support it previously announced back in January 2022. This included the following:
Remediation fund: A £4bn fund to pay for unsafe cladding to be removed on buildings 11-18 metres tall. The previously proposed loan scheme which required leaseholders to pay up to £50 a month, was scrapped.
Waking watches: A £27m fire alarm fund to help reduce the use of expensive waking watches, that can run to hundreds of thousands of pounds - with leaseholders paying the bill.

Evictions: Leaseholders will be protected from forfeiture and eviction due to fire-safety related costs.
Mortgage lending: The Consolidated Advice Note, which required external walls to be assessed on all blocks regardless of their height, is being withdrawn.
---
Latest posts