If you have made the exciting decision to get onto the property ladder this year and buy your first home, here is a guide to help you prepare and explore the different options that are available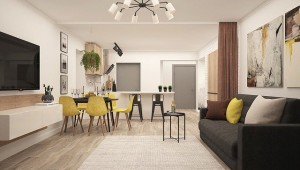 If 2022 is the year you plan to make the leap from renter to home-owner, from affordability to help-to-buy schemes and inflation, here are a few things to consider to help steer you in the right direction
So, is now a good time to buy your first home? First-time buyers generally are looking to buy a home to live in, rather than an investment to sell when the price is right for a profit. Rather than googling 'will house prices rise in 2022?' daily, you should instead concentrate on searching for places and areas you want to live in.
With the constant house price inflation that has occurred over the past decade, it often means that first-time buyers are playing a game of catch-up. For those waiting for the exact right moment to enter the market and embark on buying your first home, you could risk being priced out. A typical example is a homeowner who decided to sit out the 2021 housing market now having to find £23,544 more to account for the amount house prices have risen in the past year. This data is according to recent research by the estate agency comparison website Get Agent.
In parts of the UK, being on the property ladder can actually be more lucrative than having a job. So, if it's negative equity you're worried about, it is only really a problem if personal circumstances force you into selling. Housing forecasters think an imminent crash is highly unlikely as long as the Bank of England's base rate doesn't tip beyond 2% by the end of 2023.
Stress tests (the term given to the process by which lenders assess the sustainable affordability of a loan to a buyer) introduced following the 2008 recession, together with the popularity of fixed-rate and repayment mortgages, mean that homeowners are now far more protected from interest rate fluctuations than they have been in previous downturns. In addition, the current chronic lack of housing supply will ensure sufficient demand to keep prices resilient.
Are you in a position where you can afford to buy your first home right now? Buyers are paying £251,040 on average (in the UK) for their first home, with a mortgage of £188,625 according to Halifax Bank. However, in London, which is the most expensive region in the UK, the average first time buyer price is £521,010. The typical deposit required here is £172,021 which amounts to 33% of the purchase price.
The monthly costs of being a homeowner are approximately £115 lower than the cost of renting an equivalent home according to recent data published by Halifax Bank. Last month, typical monthly rental costs grew by 6% to £874 while buying costs grew 2% to £759. For homeowners, these statistics are the best they have been since 2017.
Halifax Mortgages Director - Esther Djikstra, says 'Historic lows for interest rates have kept mortgage costs down, compared with rents".
However, to take advantage of these low mortgage rates you will need to get the go-ahead from lenders who would not want you spending more than about approximately one third of your monthly income on a mortgage.
The lenders will be scrutinising your outgoings more than ever before and taking into account rising inflation and interest rates, in addition to the general increase in the cost of living. This would include energy bills which are set to jump 54%, or £693 on average this year. You will therefore, need to make sure you meet this affordability threshold and also factor in higher prices for food and goods -inflation rose 6.2% in the year to February. As workers are now increasingly going back to offices to work, commuting costs should also be considered.
To start getting your finances in order, it would be wise to slow down spending in the few months before you make an application for a mortgage, apply for and regularly pay off a credit card if you don't already have one, get on the electoral role, pay off debts where possible and use a reputable credit agency to view yourself through the eyes of a potential lender.
What help is available for first-time buyers? Probably the easiest way to boost your borrowing power is via the Help-to-Buy scheme. This allows first-time buyers to put down a 5% deposit on a home worth up to £600,000 and get a government backed loan worth up to 40% of the value that is interest free for 5 years. There are fees and mortgaging snags to watch out for, so make sure you read the terms of the loans before signing up.
One of the drawbacks of this scheme that should be considered, is that you have to buy a new-build and sometimes they are not always built to the highest of standards. Plus, flats tend to be sold leasehold where the home devalues as the time on the lease runs down and the owner is liable for maintenance costs.
Since the recent leasehold reforms, first-time buyers should not be paying anything other than a token 'peppercorn' ground rent (as they are due to be scrapped in April 2023) and leases should be at least 990 years long. It's a good idea to research the property management company to avoid escalating service.
Shared ownership schemes where you part-buy a percentage of a home and rent the rest from a housing association has undergone changes too. Check the length of leases and ground rents and look out for new homes being sold under a revised model which limit the repair costs and makes buying more shares cheaper.
If you were to consider buying a resale property, the Government's 95% mortgage scheme can be used to purchase second-hand homes, however, you will be paying off more in the long- term, as interest rates are approximately 1% higher than for a 90% mortgage which are about 4%. In addition, there are certain properties such as former council flats that some lenders may consider as too risky to offer this deal on.
There are also other guarantor options such as the Barclays Family Springboard mortgage or Tembo which allows a client's family or friends to help them secure a mortgage by adding their borrowing power to them. However, be sure to read up on the implications because if you find that you cannot pay the mortgage, this could lead to your parents paying it or having to take equity out of their home.
Either way, there are now multiple opportunities available to first-time buyers who are ready to climb onto the property ladder!
---
Latest posts