Useful tips and advice on getting your property ready to sell and creating the right impression for prospective buyers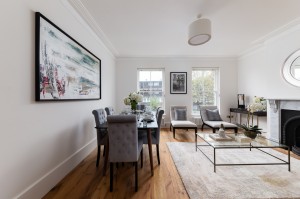 Preparing your Property
During these recent difficult and uncertain times, getting your property ready to sell does not need to cause you added stress! If you appoint David Andrew to handle your sale, we will of course do our very best to ensure that the process is smooth, safe and you are kept you up-to-date at all times. However, despite there being a severe shortage of properties for sale at the moment, you should still do your utmost to make a good and lasting impression, to optimise your chances of a quick sale.
A sure way to help in this process, is by presenting your property in the best possible manner for photographs, marketing and viewings and here are just a few tips to assist with that preparation.
First impressions
First impressions count for everything as you can never make a second one! Most buyers form their opinions of a house before they've even walked through the door! To start with, it's a good idea to pay attention to the outside of your home by repainting your front door (and window sills too if they are looking tired), tidy up your garden, bins, plant some flowers and add colourful hanging baskets or window boxes. Also, make sure your path is clean and tidy. Replacing the worn-out door mat, wiping down the entrance area and getting the windows professionally cleaned is also worth doing. Kerb appeal is very important!
Spring clean
Your home should be clean and tidy. It's easy to achieve but can create maximum impact. Don't ever underestimate the importance and positive impact of cleanliness and tidiness! Have a thorough spring clean throughout and get to the corners you'd normally ignore. Buyers come with a critical eye and will inspect a room from wall to wall. You don't want them looking down at dirty floors, scuffed skirting boards or up at the ceiling and seeing a collection of cobwebs, dusty lampshades or smeared light switches.
Bedrooms:- Always make the beds, tidy surfaces and never leave any clothes or shoes lying around – especially muddy ones!
Kitchen/Bathrooms:- Make a special effort in the high impact rooms such as the kitchen and bathroom. Make sure all the surfaces are clean and tidy, put towels and dishes away and give all the taps and stainless steel appliances a good shine. And don't forget the floors! A proper hoover and clean will make your home smell fresh and appealing – just a few drops of a highly scented disinfectant can also leave a wonderful aroma throughout.
Remove any limescale that might have built up in the bathroom (which could affect the water pressure as well as being unsightly) and also any traces of mould/condensation. A grubby toilet is unacceptable, so use the appropriate cleaners/bleach and self-cleaning bowl hangers. These are relatively easy jobs to undertake, but can help make the right impression. Also clear away all bath towels, excess toiletries, sponges, shower caps, cleaning material etc. as this will make the place look cluttered. Leave out clean hand towels that are a neutral colour and a nice liquid hand soap.
Pets
Although we are a nation of pet lovers, we do not love the smell of animals! Please remember to clean all areas of hairs and litter trays, open windows and use fragrance diffusers where possible. These can be purchased relatively cheaply and can be very effective in filling your home with a pleasant scent throughout.
Maintenance
Everything from replacing light bulbs, to cracked tiles, a dripping tap, a broken door knob, damp spots, cracked glass pane or a leak, should be fixed. A quick repair job on anything that is broken, torn, mouldy, stained or damaged will help make your property more appealing.
Touch up your paintwork
A coat of paint can work wonders for freshening up your home, making it appear brighter and cleaner. Damp patches should be addressed/treated and then freshly painted. If you can't repaint everywhere, touching up scuffed and chipped paintwork can also make a big difference.
De-cluttering
Clutter makes homes look smaller and disorganised. Therefore, it's important to take the time to remove as many personal items as possible but without stripping away character that will leave the rooms bare or sterile. Remember to tidy away books, magazines, DVDs/CDs, children's toys, pet beds, knick knacks, shelving, shoes and coats. Hallways can get particularly cluttered, so these areas may require extra attention – including tidying away letters and junk mail.
You need to help prospective buyers imagine where their furniture and family pictures will go. Rooms that look overcrowded, full of mismatching and oversized furniture can also make a room look much smaller.
Life-style setting
Some buyers are looking for a lifestyle as much as a home. Setting the table with a simple white dinner set, nice cutlery, glasses and napkins, for example, can help people imagine living in your home. Or even a nice china cake stand, with a pretty tea set and flowers can achieve the same impact. If you have a spare space/room that can be used to work from home, adding a desk and chair to create an 'office area' would be advantageous.
Garden
Since the Covid pandemic, outside space has become extremely important to potential buyers. So maximise its potential by mowing the lawn, jet wash the path/clear the moss, prune the bushes, tidy up the children's plastic toys, store away the garden tools and plant nice flowers. Whether it's a garden, balcony, roof terrace or courtyard space, you can apply the same principle and also add some nice garden furniture i.e. a bistro table and chairs - so that potential owners can picture themselves sitting in the sun and eating alfresco on a nice day.
Keep it neutral
Keeping the colour scheme neutral is a good thing. Potential buyers can walk throughout your home and visualise putting their own stamp on it without having to remove any outlandish décor first! If possible, paint your house white – it will make the place seem bigger, brighter and cleaner! Or simply create a feature wall if you wish to add some colour. Grey always works well and is a popular choice.
Photography
Just before the property is ready to go on the market, it's good to ensure that everything is in place for the photography, which is one of the key marketing elements that will entice a prospective buyer to come and view your property.
As well as the recommended tips suggested above, you should remember to prepare the following for the photographer and ideally, keep maintained for viewings:-
Kitchen: Don't leave out stray, crumpled kitchen towels or any crockery, pots, pans and food.
Living room: Plump up the sofa and cushions, tidy away magazines and toys.
Bedroom: Ensure that all beds are made with nice neutral, ironed/crumple free bedding and clothes/shoes are tidied away.
Bathroom: Put all the toilet lids down.
Dress the house with nice flowers and make sure all tables/surfaces are neat and tidy and not cluttered.
Make sure there are no overflowing bins (inside or out).
Tidy away any clean (or dirty) washing.
Documents
Once you're ready to put the property on the market, it's important to have all necessary documents in place. These include:
Proof of identity. You will need to show your solicitor your driving licence or passport and proof of address such a bank statement or recent utility bill.
Property title deeds – if you don't have these, you should contact the solicitor used when you purchased your current property. Your solicitor will also need the official copies of your title deeds which can be obtained from the Land Registry.
Fittings and contents form (TA10). This will indicate what's included in the sale of the property.
Property information form (TA6). As the seller, you are required to complete this form.
Leasehold/Shared Freehold documents. If the property is leasehold then a copy of the lease is required. If the property retains a share of the freehold, the relevant documents are required i.e. the share certificate if a company has been set up to manage the freehold.
Copies of documents referenced in the property information form i.e. FENSA certificates for replacement windows, building regulations sign off etc.
Management Information Pack. This is obtained by either the seller or their solicitor from the freeholder of the managing agent if the property is leasehold. It can take several weeks to arrive, so it is imperative that it's paid for (by the seller) and ordered as soon as the selling process commences.
Energy Performance Certificate . The EPC needs to be included when a property is sold.
Solicitor
Make sure that you appoint a solicitor at the same time as instructing your agent. This will avoid any unnecessary and unwelcome delays once you have accepted an offer on your property.
Due to our local connections, we are always happy to recommend surveyors, solicitors and mortgage brokers if required. Just contact your local David Andrew office for further details.
Free Valuation
If you are thinking of selling your property, please call us on 020 7619-3750 (Archway), 020 7354-9111 (Highbury) or 020 7281-2000 (Stroud Green), or email info@davidandrew.co.uk to book your FREE valuation.
---
Latest posts