How does it work?
The Help to Buy scheme is an equity loan provided by the Government. They lend you up to 40% of the cost of your new build home, so you will need a minimum 5% deposit and a 55% mortgage to make up the rest.
The first part of Help to Buy, launched on April 1, 2013 and available until 2020, is an Equity Loan scheme. It is open to both first-time buyers and homemovers – but is restricted to new-build homes. Under this part of the scheme, the buyer is onlyrequired to raise 5% of the property value as a deposit.
For this scheme you must have a mortgage, which will be a first charge, as the equity loan can only be a second charge. The equity loan is for a maximum of 25 years or before if the property is sold or the mortgage is redeemed, whichever term is the shorter of the two.
You will not be charged any interest on the 40% loan for the first five years of owning your home. However a management fee of £1 a month will be applicable from the date of purchase. From year six, a fee of 1.75% is payable on the equity loan, which rises annually by RPI (Retail Price Index) inflation plus 1%.
Example: 20% Equity Loan for a home purchased for £200,000.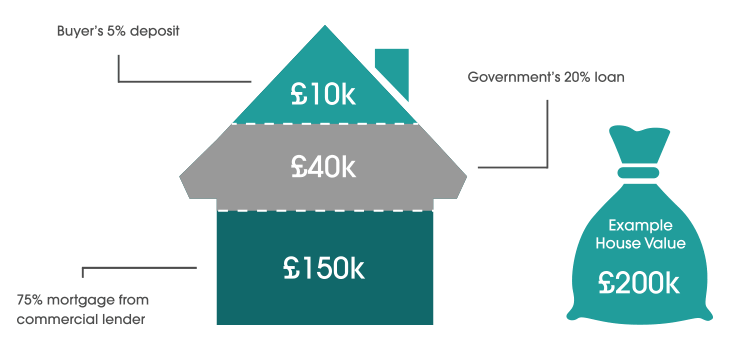 If the home in the example above sold for £210,000, you would get £168,000 (80%, from your mortgage and the cash deposit) and you would pay back £42,000 on the loan (20%). You would need to pay off your mortgage with your share of the money.
For more information (including advice on fees and paying back your loan), please download our Help to Buy: equity loan buyers' guide.
To reflect the current property prices in London, from 1st February 2016 the Government will increase the upper limit for the equity loan it gives new home buyers within Greater London from 20% to 40%.
With London Help to Buy you'll need to contribute at least 5% of the property price as a deposit, the Government will give you a loan for up to 40% of the price and you'll need a mortgage of up to 55% to cover the rest.
Barclays, Lloyds, Nationwide and Leeds Building Society have agreed to offer London Help to Buy from 1 February 2016. The Government expects other lenders to join soon.
Example: Equity Loan of 40% on property value of £400,000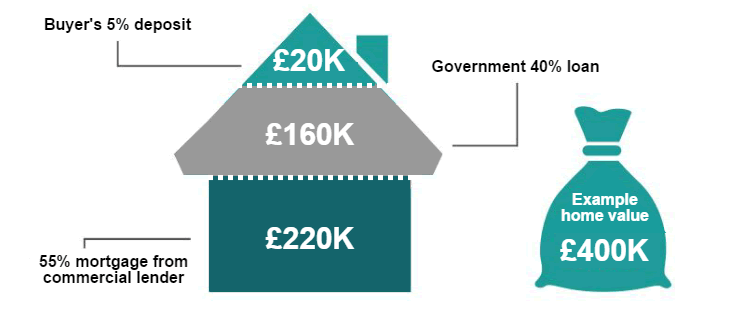 For more information (including advice on fees and paying back your loan), please take a look at the government's Help to Buy website https://www.helptobuy.gov.uk/